A EVBox Group
EVBox Group was founded in 2010 in the Netherlands and is the world's leading manufacturer of flexible and scalable charging solutions for electric vehicles. With its charging management software developed by Everon, the EVBox Group makes electric mobility accessible to everyone. The international company has already installed over 200,000 charging points and is active in over 70 countries.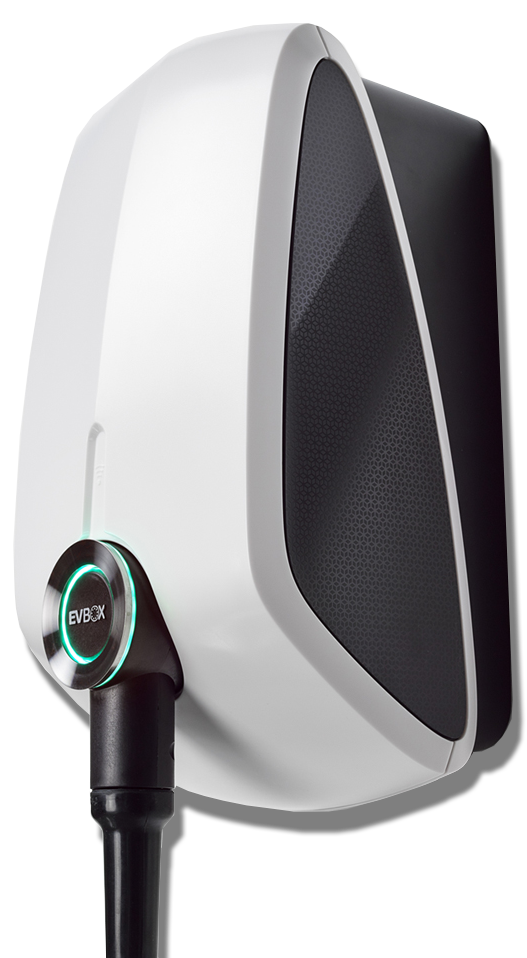 The EVBox Elvi is a smart home charging solution with high performance and low maintenance that makes charging easier for you now and in the future.
Using Type 2 connections, you can charge your electric car with up to 22 kW in no time with the EVBox Elvi. This charging station is not only easy to install, but also has countless upgrade options. What's more, you can track, manage and optimise the charging of your electric car with the EVBox charging management software.
10 reasons why the EVBox Elvi is the optimal charging solution for you:
Internet Connection via WiFi
Data to and from the EVBox Elvi charging station can be easily transferred via a WiFi connection. To enable smooth communication, you may need to configure the network settings of your internet router.
Charging Power that can be Upgraded
You can upgrade the EVBox Elvi from 11kW up to 22 kW and it can be customised to meet your individual needs.
Flexibility
The EVBox Elvi can be constantly adapted to different charging requirements and evolves with every electric vehicle.
Easy Installation with the EVBox Connect App
The EVBox Connect app is available as a tool for installers to set up your EV charging station quickly and precisely. In the app, functions such as setting the charging station's maximum amperage, assigning the correct charging management platform and configuring the auto-start function can be controlled. EVBox Connect is available on the App Store and on Google Play.
Durable design
You can easily upgrade the EVBox Elvi with its "click-on" features, and it can be easily adapted to new vehicle requirements. This reduces the amount of maintenance required without needing the help of a specialist.
Full Control and Live Insights
In addition to our charging management software, you can download the EVBox Charge App from the App Store and Google Play. Using this app, charging processes can be started and stopped effortlessly via the Autostart function, RFID cards can be created and additional EVBox charging stations can be linked.
Compatibility with Smart Charging
The EVBox Elvi is compatible with dynamic load balancing solutions such as Smappee, which safely distributes energy consumption between your charging station and other on-site devices. This ensures that your electric car is charged in the most efficient way based on available power capacity.
Fast and Safe Charging
Charge up to 10 times faster than at a standard household socket with the EVBox Elvi. It is CE certified and by far the safest charging method for your car and home.
Equipped with LED Display
The colours of the LED ring indicate the operating status of your charging station. The EVBox Elvi can communicate with you to let you know whether it is currently operational, charging, waiting or there is a fault.
OCCP for Backend Communication
Communication between a charging station and a backend system is governed by the Open Charge Point Protocol (OCCP). With OCPP 1.6, you can easily control one or more charging stations with a backend system and, among other things, view individual charging processes, manage users and bill for the charged electricity.
Are you a PV installer? Perfect!
Become a SegenSolar customer today and enjoy the many benefits we can offer.
Are you a private customer and interested in your own photovoltaic system? We would be happy to put you in touch with a specialist installer in your area today!
| Product code | Categories | Name |
| --- | --- | --- |
| EVBOX-ELVI-11KW-6M-W | EV Charging, Main Unit | Elvi EV Charger 11 kW Wifi 6m cable No Meter Tethered White |
| EVBOX-SIGN-BKT-DBL | EV Charging, Mounting Post | Brackets for double sign (on a pole) |
| EVBOX-ELVI-7-22KW-U-W | EV Charging, Main Unit | Elvi EV Charger 7.4kW/22kW Wifi+UMTS Untethered White |
| EVBOX-ELVI-CABLE-DOCK | EV Charge Cable, EV Charging, | Elvi Cable Dock For Charging Cable |
| EVBOX-FOB | Access Control, EV Charging, | Additional Key Fob for Charging Stations |
| EVBOX-IQ-22-SS-SAT | EV Charging, Main Unit | DO NOT USE |
| EVBOX-SIGN-ARROWS | EV Charging, Signs | Charging sign with arrows 40 x 80cm |
| EVBOX-ELVI-7-22KW-U-B | EV Charging, Main Unit | Elvi EV Charger 7.4kW/22kW Wifi+UMTS Untethered Black |
| EVBOX-BL-COV-WHT | Cover, EV Charging, | BusinessLine Cover RAL 9016 White |
| EVBOX-BL-POL-FLR | EV Charging, Mounting Post | BusinessLine Combi Pole 1400mm on floor mounted |
| EVBOX-BL-POL-GND | EV Charging, Mounting Post | BusinessLine Combi Pole 1900mm ground mounted |
| EVBOX-BL-SNGL-ADAP | EV Charging, Mounting Post | Adapter kit for single BusinessLine on pole |
| EVBOX-BL-WAL-BKT | EV Charging, Mounting Post | BusinessLine Wall Bracket |
| EVBOX-BL-WAL-CBL-DUM | EV Charging, Mounting Post | BusinessLine Cable Holder Wallmount T2 Dummy |
| EVBOX-ELVI-11KW-6M-B | EV Charging, Main Unit | Elvi EV Charger 11 kW Wifi 6m cable No Meter Tethered Black |
| EVBOX-ELVI-7-22KW-6M-U-W | EV Charging, Main Unit | Elvi EV Charger 7.4-22 kW Wifi+UMTS 6m cable Tethered White |
| EVBOX-BL-22-DS-SAT | EV Charging, Main Unit | Double 22kW socketed BusinessLine Satellite |
| EVBOX-BL-22-SS-HUB | EV Charging, Main Unit | Single 22kW socketed BusinessLine Hub |
| EVBOX-BL-22-SS-SAT | EV Charging, Main Unit | Single 22kW socketed BusinessLine Satellite |
| EVBOX-BL-7.4-DS-HUB | EV Charging, Main Unit | Double 7.4kW socketed BusinessLine Hub |
| EVBOX-BL-7.4-DS-SAT | EV Charging, Main Unit | Double 7.4kW socketed BusinessLine Satellite |
| EVBOX-BL-COV-BLU | Cover, EV Charging, | BusinessLine Cover RAL 5017 Blue |
| EVBOX-BL-11-DS-HUB | EV Charging, Main Unit | Three phase double socketed BusinessLine Hub 11kW |
| EVBOX-BL-11-DS-SAT | EV Charging, Main Unit | Three phase double socketed BusinessLine Satellite 11kW |
| EVBOX-BL-22-DS-HUB | EV Charging, Main Unit | Double 22kW socketed BusinessLine Hub |
| EVBOX-SIGN-BKT-SGL | EV Charging, Mounting Post | Brackets for single sign (on a pole) |
| EVBOX-SIGN-CHARG | EV Charging, Signs | Charging Sign 40 x 60cm |
| EVBOX-ELVI-7-22KW-6M-U-B | EV Charging, Main Unit | Elvi EV Charger 7.4-22 kW Wifi+UMTS 6m cable Tethered Black |